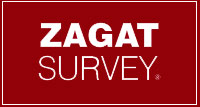 Whether it's "date night" or an early dinner "with the kids", this versatile and "accommodating" seafooder "in the heart of Pelham" lures them in with "well-prepared" fin fare in a "delightful" "nautical"-themed room; a posse of landlubbers bemoan that, yes, they "try very hard to please" but the quality of meals "varies" "one time to the next."
GRUB STREET
CRITICS PICK
CAFFE REGATTA 133 Wolfs Ln. @ the corner of Sparks Ave.\ In Pelham 914.738.8686
Caffe Regatta is a restaurant that should be on everyone's heavy rotation list, for five reasons.
(1) It's Café' Style Meaning it's cheap enough to afford regularly, but stylish enough to feel like a treat.
(2) The food is excellent in an unself-conscious way, ranging from a Baby Spinach Salad with Chevre Croutons($8) and a Shrimp and Vegetable Spring Roll ($9) to Honey Glazed Wild Salmon with Roasted Parsnip and Sweet Potato ($19)
(3) Caffe Regatta has a Marvelous Raw Bar Selection with East & West Coast Oysters Selections, Clams on the half shell, King Crab Legs & Shellfish Towers Built to Order
(4) The Wait Staff is Gracious and Tre's genial
(5) It's a no-wait Sunday Brunch Spot with hearty dishes like the "Country Fare" served with all your brunch staples, and the must have Lemon-Ricotta Hot Cakes
The menu can satisfy all your comfort food cravings, with a complimentary choice of beverage (alcoholic or otherwise) plus a free breakfast bread basket served with butter and jam.
With French Toast thicker than Donald Trump's billfold it's a wonder how this cozy brunch spot doesn't over flow